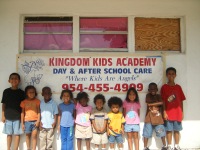 Kingdom Kids Academy is open from 6:45am -6:00pm Mon.-Fri.

We offer services to children ages 18 months-12 years of age.

Bring your child to a christian based childcare center!




Our Daily schedule
6:45am-8:00am~quiet time(books,t.v., quietly playing)
8:00am-8:30am~breakfast
8:30am-9:00am~cleanup and restroom break
9:00am-9:30am~devotion(prayer, scripture memorization, biblical songs, The Lord's Prayer)
9:30am-10:30am~Learning Time
10:30am-11:00am~Outdoor play
11:00am-11:30am~Lunch Time
11:30am-12noon-~cleanup & restroom break
12 noon-1:30pm~nap time
1:30pm-2:00pm~cleanup & restroom break
2:00pm-2:30pm~Afternoon snack
2:30pm-3:30pm~homework
3:30pm-4:00pm~reading(may read to younger children)
4:00pm-4:45pm~outdoor play
4:45pm-5:00pm~restroom break
5:00pm-6:00pm~quiet time(t.v./quiet games)

Email: mll@thelordshouse.org

Phone: 954-455-4909

Tuition:

Please call for our LOW rates!
FAMILY CENTRAL ACCEPTED!!

Grade Levels:

Childcare-18months-12 years

Voluntary Pre-Kindergarton*Extended Hours 9-2pm

After School Program *transportation from Hallandale Elem.

Curriculum:

ABEKA-CREATIVE


Location:120 SW 6th Ave.
Hallandale, Fl. 33009

Director: Martha Lee